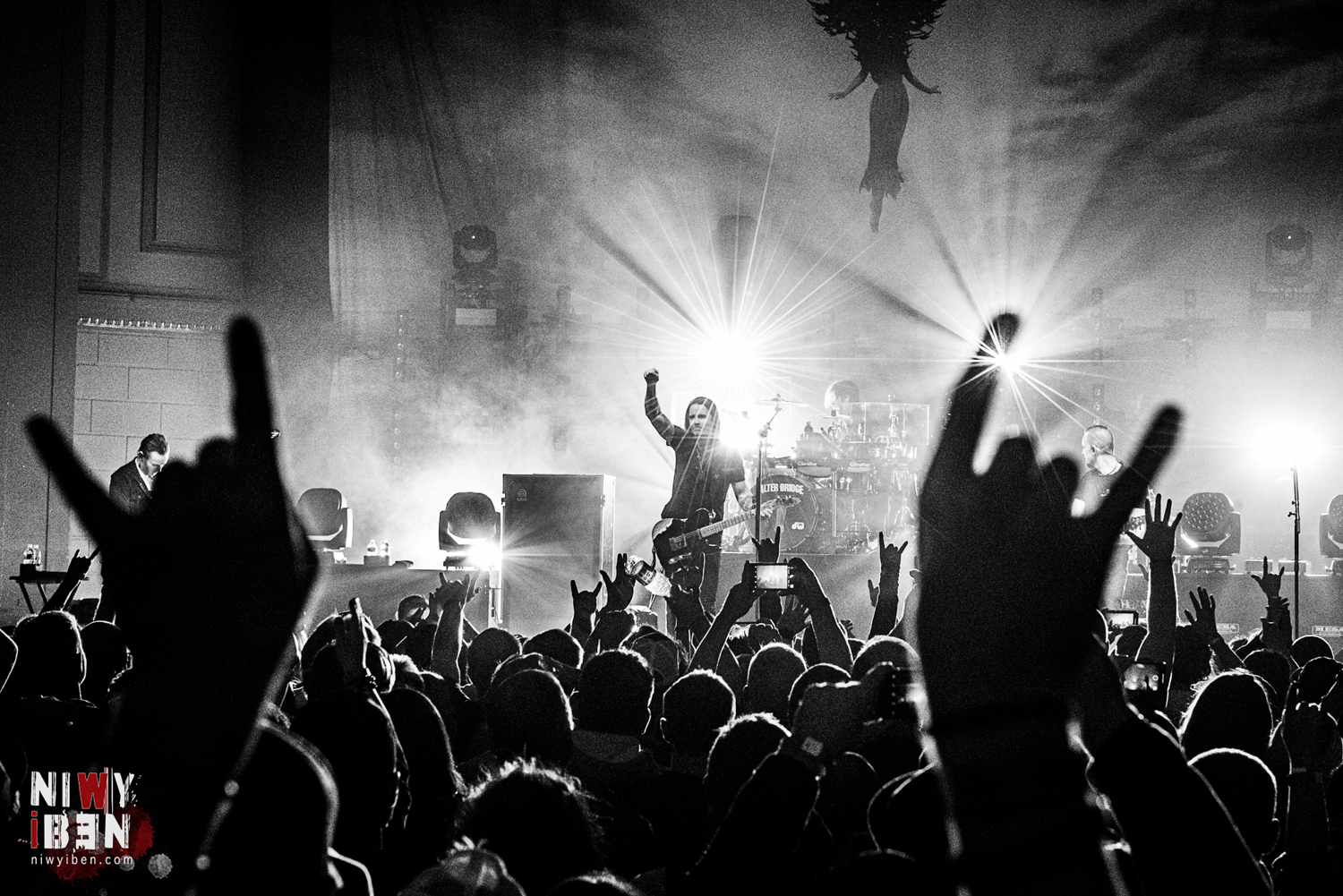 Trip to Nashville wasn't in my original plans for this US trip. But when given the opportunity to photograph one of the best (and most underrated) hard rock bands of today, who could say no? I definitely wasn't able to resist temptation to see Alter Bridge in the War Memory Auditorium. With a sweet bonus, Clint Lowery with his brand new solo album God Bless The Renegades joined AB on this tour.
The sold out show in Tennessee was opened by Deepfall, for me a new band I did not know before. Their set warmed up the crowd a bit with few of their own songs as well as pretty good cover of Journey's Separate Ways.
As Clint Lowery backed by Jonathan Jourdan, Pat Seals and Ryan Bennett took stage next, it was evident that AB fans are certainly not new to this guy. Used to see him with Sevendust, lot of people knew Clint, even though now we all could see him in a slightly different light. Not used to spotlight, Lowery came off as a humble and very grateful for the opportunity and sometimes it was almost cute to see him getting used to the new situation. It was only the second solo gig so far, the first one taking place at Shiprocked the week before. Needless to say, it was very entertaining to see this side of him and songs from his new album only further prove what a talented musician and songwriter Clint Lowery is.
With tones of the opening track of their new album Alter Bridge finally took the stage. Walk The Sky was a huge success claiming multiple number 1s in the charts, moving these guys in Europe to big arenas and even stadiums, so for me it was interesting to see the band play in US, where their fanbase is smaller than accross the pond. Even here the band certainly stepped up their show with more fancy lights and of course a backdrop with the album cover could not be absent. But first and foremost, people came to the show for the remarkable music feast tha Alter Bridge always offer. Old classics combined with fresh new wind from the new album, the show did not disappoint for a moment. I was especially delighted to finally hear one of my faves of the new album - Dying Light and it was pure sonic ecstasy. Another highlight of the show was certainly Watch Over You, ballad that has been on this tour cycle played half acoustically and half full band to the delight of many fans who wanted to hear this version live for a long time. That only further proves how much this band appreciates their fans and listens to them. During Waters Rising we could see and most importantly hear Tremonti and his vocal skills shine. Those in-ears Mark started to use on this tour make a huge difference and the guy sounds better than ever. Of course the band had to play Blackbird and as many times as we've all heard it live before, it never ceases to bring out such powerful emotions and during Metalingus, as usually, Myles had the whole crowd crouching and all jumping up together. Closed with two encores, Godspeed where the whole audience joined in on the singing and Addicted to Pain, I was sad for the almost two hour show to come to an end.
I have to honestly say I am very grateful for the opportunity and for the change of plans, not seeing these guys in Nashville (despite seeing them three times in the week prior to the show) I would have missed out big time. These guys always deliver, even when their day did not start that good, as Kennedy admitted during the show and quickly added that the show absolutely changed that and turned his mood around 180 degreees. Not only they put out music that is a showcase of overload of talent combined together, their live shows are always an amazing experience.
With few more shows of this tour left, the band has already announced return in May with the mighty Black Stone Cherry in US, including few of festival appearances, and then in June they are headed back to Europe for the festival season, few gigs as support for Iron Maiden and hopefully some headline concerts will be added as well. Whether in US or Europe, be sure not to make a huge mistake of not going to see them if you have the chance!